Nasal Septal Prosthesis
Blom-Singer® Nasal Septal Perforation Prosthesis
The Blom-Singer® Nasal Septal Perforation Prosthesis is a two-piece, magnetically coupled solution for non-surgical closure of nasal septal perforations.
This product is for Professional use only.
FOR THE NON-SURGICAL CLOSURE OF NASAL SEPTAL PERFORATIONS
A nasal septal perforation can vary in size and location, and it may be asymptomatic or cause a variety of symptoms. For those with a nasal septal perforation, and those who live with people with a nasal septal perforation, the impact can be aggravating and uncomfortable.
COMMON CAUSES OF NASAL SEPTAL PERFORATION:
Complications from nasal surgery

Chronic epistaxis

Aggressive digital nasal cleaning (nose picking)

Nasal piercings

Chemical inhalants

Cocaine use
POSSIBLE SYMPTOMS:
Small anterior lesions may cause a whistling sound

Larger perforations may cause crusting, bloody discharge, difficulty breathing, nasal pressure, and discomfort

Rhinorrhea

Epistaxis

Infection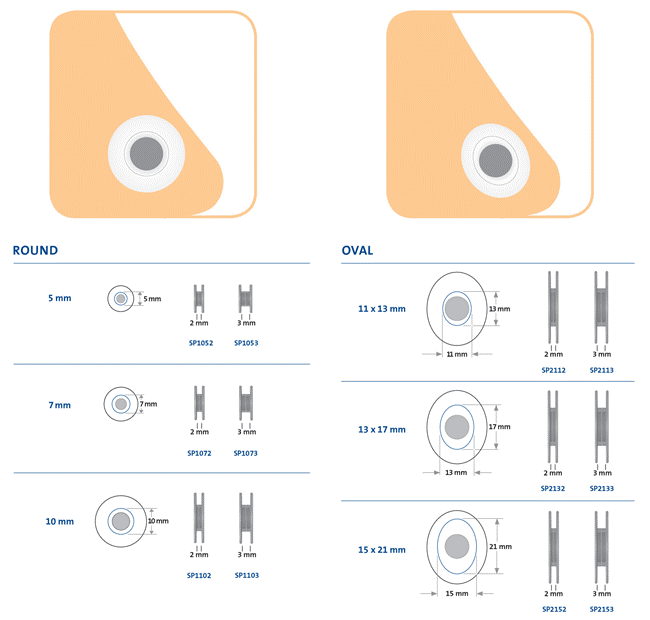 OPTIONS TO FIT
Available in multiple round and oval shapes, sizes and thicknesses. The Blom-Singer Nasal Septal Perforation Prosthesis offers multiple sizes and shapes to close nasal septal perforations. A better fit means less pistoning, less side to side movement and a reduction in bleeding and crusting.
MAGENTIC COUPLING
Precisely molded medical grade silicone covers neodymium magnets that couple to fit with a strong, reliable attachment force.
EASE OF INSERTION
Studies have documented that patients using a two (2) piece magnetically coupled nasal septal button experienced no particular discomfort on insertion, removal or replacement while all cases reported a precise, tight fit. A magnetic-based technique ensures a more practical debris removal procedure for the attending ENT specialist.¹
Ref: 1 Teschner M, et al. Eur Arch Otorhinolaryngol. 2012 Mar; 269(3):861-5
Nasal Septal Prosthesis