POST COVID-19 REHABILITATION CONSIDERATIONS
POST COVID-19 REHABILITATION CONSIDERATIONS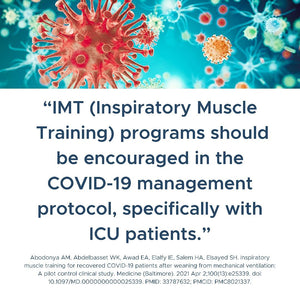 STAY STRONG THIS WINTER!

IMPROVE VOLUNTARY COUGH AND RESPIRATORY MUSCLE STRENGTH

THE BENEFITS OF THE RMST RANGE OF DEVICES SPEAK FOR THEMSELVES

The EMST150™ strengthens the muscles involved in coughing, swallowing and breathing. It is very popular with dysphagic patients although to date it has primarily been used to address symptoms of neuromuscular diseases such as Parkinson's, Multiple Sclerosis, Huntington's ALS, Stroke, COPD and the Head and Neck Cancer population.

With the addition of the IA150 Inspiratory Adaptor, you can now train the inspiratory muscles. Simply insert the EMST150 into the IA150 and immediately create a dual purpose inspiratory-expiratory device. A 2021 study by Abodonya et al, showed a 2 week IMT program should be encouraged in the COVID-19 management protocol, specifically with ICU patients. Link to study.