Servox Digital XL
Servox Digital XL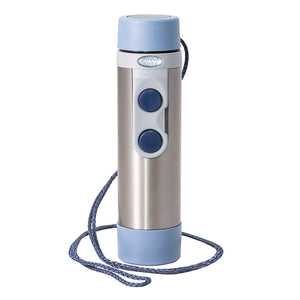 SERVOX®  Digital XL

XL Performance – XL Flexibility – XL Quality

High Quality Materials - Ergonomic - Lightweight - Reliable
The SERVOX® digital XL speech aid is a high-quality new edition of the well-known SERVOX® digital. With its modern power management the battery performance has been significantly increased, extending speaking time by more than 50%* compared to the previous model. SERVOX® digital XL provides up-to-date vocal rehabilitation for laryngectomized and tracheotomized patients.
The SERVOX® digital XL speech aid offers patients, who have lost their voice due to injury, illness or surgical removal of the larynx, the opportunity to quickly regain the ability to communicate.
The SERVOX® digital XL can also be used by patients who are temporarily voiceless due to a tracheostomy, who have to protect their vocal folds due to illness or who are connected to a respirator.
Even patients who are comfortable using the oesophageal voice can use the SERVOX® digital XL in a variety of scenarios, e.g. for making phone calls, at business meetings, when they are tired, sick or very stressed, in an emergency, or in settings where speaking in a loud voice is essential.