Thank you Healthcare Heroes
Thank you Healthcare Heroes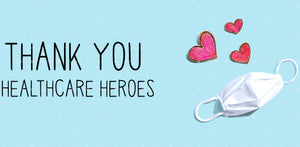 There is no doubt we are living through extraordinary times which will change our world forever. We are currently impacted by available freight options and COVID-19 restrictions. With flights limited and borders closed, your order is sometimes taking longer than usual to get to you. Please be assured we are doing all we can and ask you to please review your orders and allow an extra time window where possible for your order to be processed and delivered. 

For urgent orders please call or email me personally.
BLOM-SINGER PLUG INSERT



The Plug Insert is designed to temporarily stop leaking. Although voice production is not possible while the plug insert is in use, it is an ideal back up for patients. 
LARGE OESOPHAGEAL FLANGE WITH TEP OCCLUDER (LETO)



Provides a seal to help manage leakage around a voice prosthesis. Also enables downsizing from a wider diameter prosthesis to a smaller diameter. 
DON'T FORGET THE PERFECT PATIENT PARTNER
The latest Servox® Digital XL is ideal as a backup device for those patients who normally use TEP speech. It is valuable when patients are unwell, tired, need to make a phone call or when their spending lots of time video chatting with friends, family and their beloved SP!