InHealth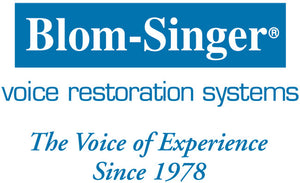 Product Categories: 
In 1978, Drs. Singer and Blom pioneered the methods of tracheoesophageal puncture and valved silicone voice prostheses that for over the past 35 years have become the international standard for voice restoration, allowing thousands of patients worldwide to regain their ability to speak. As a leading supplier of advanced voice restoration systems, our goal at InHealth is to help laryngectomees regain and preserve a vital part of their lives – their voice.
Blom-Singer
®
Voice Restoration System
VOICE PRODUCTION
By creating a small surgical puncture just inside the stoma, from the back wall of the trachea into the esophageal wall, a voice prosthesis can be placed into this passage to enable tracheoesophageal speech. Voice is produced by temporarily blocking the stoma so that exhaled air from the lungs can be directed from the trachea through the prosthesis into the esophagus and then out through the mouth. Fluent, conversational speech may be acquired within just a few days.
Blom-Singer Classic / Blom-Singer Advantage / Blom-Singer Dual Valve / Blom-Singer Low Pressure / Blom-Singer Duckbill (ADD PICS) 
Clinician Placed (indwelling) voice prostheses are for laryngectomees who are unable or reluctant to perform the routine removal and insertion necessary for the cleaning and maintenance of patient-changeable voice prostheses.

Patient Changeable voice prostheses are voice prostheses that patients may insert, remove and clean.

Rapid Response special order voice prostheses are offered with a wide range of features and sizes for patients who have special needs.

Advantage and Dual Valve voice prostheses are for patients who are susceptible to Candida growth. Both valves are imbedded with silver oxide, an antimicrobial agent that has been proven to eliminate or reduce the need for antifungal agents.
InHealth