Registrations now open for the RMST Clinical Workshop in Melbourne
Registrations now open for the RMST Clinical Workshop in Melbourne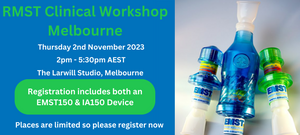 Are you eager to delve into the intricacies of Respiratory Muscle Strength Training (RMST) and emerge with a comprehensive understanding of its applications? Join us for an enriching clinical workshop that will equip you with the knowledge and skills to harness the full potential of RMST. Whether you're a seasoned practitioner or new to the field, this workshop offers a unique opportunity to expand your skill set and broaden your clinical horizons.
The RMST Clinical Workshop, presented by the esteemed Dr. Nicola Clayton, is set to take place on Thursday, November 2nd, at The Larwill Studio in Melbourne, commencing at 2:00 PM and concluding at 5:30 PM AEDT.
Upon completing this workshop, you will:
Grasp Respiratory Mechanics: Acquire a firm understanding of the fundamental mechanics and the associated musculature that underlie the process of respiration. Explore the intricate workings of the respiratory system and how it relates to RMST.

Dive Deep into RMST: Gain insights into what RMST entails, including both Inspiratory and Expiratory Muscle Strength Training. Explore the diverse populations that have been studied to date, broadening your knowledge base.

Identify Potential Candidates: Enhance your ability to identify potential candidates for RMST, specifically focusing on Expiratory Muscle Strength Training (EMST) and Inspiratory Muscle Strength Training (IMST).

Implement RMST with Confidence: Learn how to effectively implement RMST techniques and measure functional outcomes. Gain hands-on experience in applying RMST in clinical settings, ensuring you can translate theory into practice.

Prescribe Training with Precision: Understand the principles that guide the prescription of RMST training. Tailor interventions to suit individual patient needs, optimizing their outcomes.

Apply Knowledge through Case Studies: Put your newfound knowledge to the test within a case study/series framework. Apply RMST principles to real-world scenarios, honing your problem-solving skills.

Troubleshoot Effectively: Develop the ability to recognize and address common patient-specific issues that may arise during RMST. Equip yourself with troubleshooting strategies to ensure smooth and effective implementation.
Places are limited so secure your spot today to enrich your understanding of RMST, enhance your clinical practice, and ultimately improve the lives of your patients.
We look forward to welcoming you to this exceptional learning experience! To register or find out more click here.